TPH Risk Evaluation at Petroleum-Contaminated Sites
Sponsored by: Interstate Technology and Regulatory Council

Remediation at petroleum release sites is often infeasible for technical or cost reasons. Many of these sites could be depleted in typical indicator compounds, such as BTEXN, but still heavily contaminated in terms of Total Petroleum Hydrocarbons (TPH). The traditional indicator compound approach for managing petroleum contaminants may not fully identify short- and long-term potential environmental concerns, can create delays in project schedules and cost overages for sub-surface utility work or redevelopment. It is important to consider a comprehensive cumulative risk-based approach to more effectively incorporate TPH data in addition to traditional BTEXN data for cleanup and long-term management decisions.

The basis for this training course is the ITRC guidance: TPH Risk Evaluation at Petroleum-Contaminated Sites (TPHRisk-1, 2018). The guidance builds on long-standing and current research and experience, and presents the current science for evaluating TPH risk at petroleum-contaminated sites. The methods and procedures to evaluate human and ecological risk and establish cleanup requirements in the various media at petroleum release sites will assist decision makers in developing and implementing a technically defensible approach. In addition, the guidance provides information and supplemental references to assist practitioners and project managers in the assessment of fate, transport, exposure, and toxicity of TPH. The guidance users will also gain information that may be used in conjunction with classic tiered approaches for risk-based decision making (ASTM 2015b, ITRC Risk 3 2015), including modifications in the assessment and remedial-decision and regulatory framework for TPH impacts through direct comparison to screening levels, site-specific modification of screening levels, and complete site-specific risk assessment for sources, receptors, and pathways, where appropriate.

The target audience for this guidance and training course is:

Regulators and Program Managers interested in knowing how site management decisions can influence the TPH risk evaluation process.

Risk assessors new to TPH data or those who want additional knowledge and training in the current methods and common practices for collecting and using TPH data in assessments to more accurately determine human health and/or ecological risks at petroleum-contaminated sites.

Stakeholders who are either engaged in redevelopment at former petroleum release sites or folks who are involved in community engagement and revitalization activities.
As a participant in this training you should learn to:
Recognize the ITRC document as a go-to resource for evaluating TPH risk at petroleum-contaminated sites

Recognize how TPH -impacted media interacts with the environment and changes over time

Select appropriate analytic method(s) to match site objectives

Apply the decision framework to determine when a site-specific target level may be more appropriate than a generic screening level for TPH
Accessibility, Recording, and Content Disclaimer
Rehabilitation Act Notice for Reasonable Accommodation
It is EPA's policy to make reasonable accommodation to persons with disabilities wishing to participate in the agency's programs and activities, pursuant to the Rehabilitation Act of 1973, 29 U.S.C. 791. Any request for accommodation should be made to at or , preferably one week or more in advance of the webinar, so that EPA will have sufficient time to process the request. EPA would welcome specific recommendations from requestors specifying the nature or type of accommodation needed. Please note that CLU-IN provides both alternate phone call-in options and closed captioning for all webinars, and requests for these specific accommodations are not necessary.
Webinar Recording
By participating in this CLU-IN webinar, you automatically agree to authorize recording of audio and visual content presented during this live event and consent to subsequent use of this recording in the public domain by the U.S. Environmental Protection Agency. This recording may include questions, comments and poll responses provided by you during the live event in addition to your name, voice, image or likeness. This recording will be made available after the conclusion of the live event as part of the CLU-IN webinar archives, and will remain available indefinitely. If you do not wish to consent to the recording, please do not join the live event, and contact Jean Balent at 202-566-0832 or balent.jean@epa.gov to discuss your concerns.
Content Disclaimer
This webinar is intended solely to provide information to the public. The views and opinions expressed as part of this webinar do not necessarily state or reflect those of the U.S. Environmental Protection Agency. It is not intended, nor can it be relied upon, to create any rights enforceable by any party in litigation with the United States, or to endorse the use of products or services provided by specific vendors. With respect to this webinar, neither the United States Government nor any of their employees, makes any warranty, express or implied, including the warranties of merchantability and fitness for a particular purpose, or assumes any legal liability or responsibility for the accuracy, completeness, or usefulness of any information, apparatus, product, or process disclosed, or represents that its use would not infringe privately owned rights.
Presenters: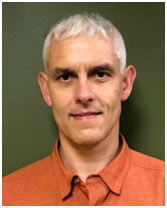 Ross Steenson, San Francisco Bay Regional Water Quality Control Board (ross.steenson@waterboards.ca.gov)
Ross SteensonRoss Steenson is a senior specialist geologist with the San Francisco Bay Regional Water Quality Control Board and has worked for the agency since 2008. He has over 29 years of regulatory and professional experience in the investigation and cleanup of a wide variety of contaminated sites. In his current role, he provides technical support to staff, oversees cases, and develops and maintains agency guidance. His technical expertise includes vapor intrusion, contaminated groundwater discharges to surface water, contaminated sediment, and risk assessment. Since 2012, in a team of two, he maintains and updates the agency's Environmental Screening Levels, and is the lead for Total Petroleum Hydrocarbon screening levels. He was the lead author for preparing the agency's 2016 Petroleum Metabolites technical document. He earned a bachelor's of science degree in geology from The College of William and Mary in 1986 and a master's of science degree in geology from Miami University in 1991. He has been a certified California hydrogeologist since 1997.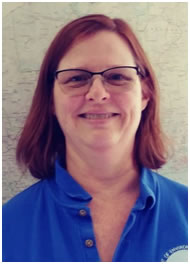 Pat Locklin, Maine Department of Environmental Protection (patricia.a.locklin@maine.gov)
Patricia (Pat) Locklin is an Environmental Engineer at the Maine Department of Environmental Protection (DEP) in Augusta, Maine. Patricia has worked in petroleum remediation in the Technical Services Division of the Bureau of Remediation and Waste Management since 2001, as well as from 1994 to 1997. She oversees and performs remedial actions at a variety of petroleum spill sites from former or current gasoline stations to private residences whose drinking water well or indoor air quality has been impacted by the spill. During the interim, she worked at the DEP overseeing Wastewater Treatment Plant upgrades. Prior to her work at the DEP, Pat spent 3 years with the City of Brewer, Maine as the Sewer Separation Study Engineer, preceded by 2 years at David Gordon Associates, an environmental consulting firm in Newton Upper Falls, Massachusetts. Beginning in 2012, she contributed to the ITRC Petroleum Vapor Intrusion team. Pat Received a Master's Degree in Environmental Engineering from the University of Maine in Orono, Maine in 2007 and a Bachelor's Degree in Chemical Engineering from the University of Lowell in Lowell, Massachusetts in 1984. She became a Registered Professional Environmental Engineer in the State of Maine in 1997.
Manivannan Nagaiah, Langan Engineering and Environmental Services (mnagaiah@langan.com)
Manivannan (Mani) NagaiahManivannan (Mani) Nagaiah is a Project Manager with Langan Engineering and Environmental Services in Fort Lauderdale, FL. Mani's career has been focused on the management of small to large-scale, complex NAPL sites as well as petroleum release sites with TPH impacts. Over the past 15 years, he has spearheaded several petroleum release investigations, designed and optimized LNAPL recovery systems and corrective actions, and established technically feasible and practical road maps for site closure. Mani has worked on NAPL/petroleum release investigative and remediation projects in the north-east corridor, Georgia and Florida. He has authored peer reviewed publications and presented on a wide-range of LNAPL topics in several national conferences. Since 2016, Mani has been an active participant with the ITRC TPH team and is new to the ITRC training team. He is also the co-author of the accompanying HDOH case studies document for the TPH guidance. Mani holds a bachelor's degree in Civil Engineering from ACCET, Madurai Kamaraj University in Tamil Nadu, India (2000) and a master's degree in environmental engineering from Oklahoma State University in Stillwater, Oklahoma (2003). Mani is a registered professional engineer and maintains active licensure in several states.

Diana Marquez, Burns & McDonnell (dmarque@burnsmcd.com)
Diana Marquez is an Associate Toxicologist with Burns & McDonnell in Kansas City, MO and has worked for the company since June 1995. She serves as the company's National Practice Leader for Risk Assessment Services. She has over twenty years of risk assessment experience and has worked with a wide variety of sites under CERCLA, RCRA, and state-led programs. She has successfully completed work nationwide for both human health risk assessments and the determination of site-specific cleanup levels. She has direct experience working with large PRP groups on complex sites that require careful negotiations with regulators. Through this experience, she has gained in-depth knowledge of state and federal regulations. She authored 15+ publications on risk assessment, risk-based corrective actions, and vapor intrusion. Diana earned a bachelor's degree in biology from Villanova University in Villanova, PA in 1991 and a master's degree in toxicology from University of New Mexico in Albuquerque, NM in 1992.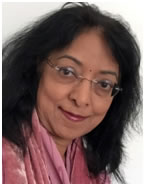 Usha Vedagiri, Wood (usha.vedagiri@woodplc.com)
Usha Vedagiri is a Principal Risk Assessor at Wood - Environment and Infrastructure Solutions, located in Oakland, California. Usha has more than 25 years of experience in human health risk assessment, ecological risk assessment, risk-based remediation goals, chemical-specific exposure and toxicity assessments and risk management plans. In support of remediation, permitting and exploration/extraction projects, she is responsible for management, scoping and execution of risk assessments, strategy development for risk-based remediation and redevelopment at contaminated sites, and risk identification and mitigation planning for resource development, in the United States and abroad. She has designed sampling and analysis plans and toxicity testing programs for environmental and biological media and evaluated risks related to a variety of chemicals including petroleum hydrocarbons, PAHs, PFAS, PCBs, dioxins, metals, and pesticides in terrestrial, freshwater and estuarine environments. For petroleum hydrocarbons, she has evaluated human health risks using a variety of USEPA and individual state-level guidance and ecological risks using technical methods ranging from screening-level assessments to complex modeling and testing-based approaches. Prior to Wood, she worked in the environmental consulting field with AECOM, EA Engineering and IT Corporation. Since 2013, Usha has contributed to ITRC as a team member for ITRC's Risk Assessment, Bioavailability in Contaminated Soils, TPH Risk Evaluation at Petroleum-Contaminated Sites and PFAS teams. Usha earned a bachelor's degree in biology from Ethiraj College in India and a master's and Ph.D, in Environmental Science from Rutgers University in New Brunswick, New Jersey.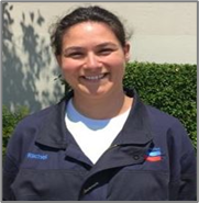 Rachel Mohler, Chevron Energy Technology Company (rmohler@chevron.com)
Rachel Mohler is the Gas Chromatography Technical Team Leader for the Chevron Energy Technology Company in Richmond, California. Since joining Chevron in 2007, her interests have lied in advanced analytical characterization of organic compounds in a variety of matrices. Over the past eight years, she has collaborated with researchers from various disciplines (e.g., biochemistry, toxicology, environmental science, and hydrogeology) to better understand the composition of and the risk posed by organics in the groundwater at historic petroleum release sites. In addition to frequently presenting her research results to audiences at technical conferences, she is also passionate about describing her work to elementary, middle and high school students to promote STEM (science, technology, engineering, and math). Rachel has over twenty publications in peer-reviewed journals, two patents, and serves as a reviewer for multiple technical publications including Environmental Science and Technology (an ACS journal), and Journal of Chromatography. She has been a contributor and active member of the ITRC TPH Risk Evaluation at Petroleum Contaminated Sites team. Rachel earned a Bachelor's degree in Chemistry from the University of California, Riverside in 2002 and a Doctor of Philosophy in Chemistry from the University of Washington in 2007.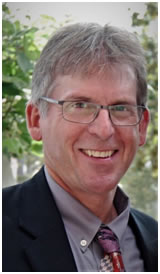 Jeff Kuhn, Retired (jkuhnmt@bresnan.net)
Jeffrey A. Kuhn is a hydrogeologist and was a program manager for the Montana Department of Environmental Quality (DEQ). Throughout his career Jeff has overseen remediation programs including the Montana Leaking Underground Storage Tank (LUST) Program, Federal LUST Trust Program, Brownfields Program, and DSMOA/FUDS Programs. He also directed research efforts at several complex petroleum projects throughout the state. He had led numerous technical task forces, forums, and work groups, worked as an expert witness on petroleum cases, and served as the LUST Task Force Chair for the Association of State and Territorial Solid Waste Management Officials (ASTSWMO). Jeff also served on ITRC's Board as the State-Member-at-Large. He has participated on many ITRC Teams, such as the Management of Complex Sites Team, LNAPL Team, Petroleum Vapor Intrusion Team, and MtBE Team. Jeff currently writes a column for "LUSTline" on site assessment approaches, the use of innovative petroleum remediation technologies, and fuel additives. Jeff teaches geology and natural history in Glacier National Park and leads interpretive hikes for the Glacier Institute and Granite Park Chalet. Jeff has a B.S. degree in Geology and German Language from Juniata College, and an M.S. degree in Geology from the University of Montana, Missoula, MT.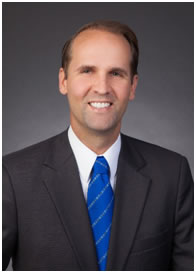 Matt Smith, Orange County Sanitation District (msmith@ocsd.com)
Matthew Smith is an Engineer for the Resource Protection Division at the Orange County Sanitation District in Fountain Valley, California. Matt specializes in environmental source control in conducting fate and transportation studies and risk assessments to protect the public, environment, and OCSD's wastewater facility infrastructure. He previously worked as an environmental consultant for GHD and managed the investigation and remediation for over 200 small to large-scale projects involving TPH-related releases and impacts. He previously managed GHD's West Coast Remediation Services Group (RSG) and was responsible for supervising the remediation pilot testing, permitting, design, installation, operation, and optimization of various remedial strategies and treatment systems. Over his career, Matt has serviced numerous major oil companies, industrial companies, public agencies, and commercial properties. Matt has worked on TPH-related investigative and remediation projects in California, Nevada, Arizona, Oregon, Washington, Alaska, Oklahoma, Missouri, Tennessee, Virginia, and New Jersey. Matt has presented on numerous environmental and remediation topics in several conferences throughout the country. Matt has been an active participant and recently served as the assistant program advisor for the ITRC TPH team. Matt holds a bachelor's degree in Chemical Engineering from Brigham Young University (BYU) in Provo, Utah and is a registered professional civil engineer in several states.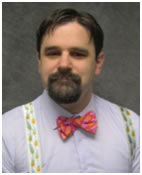 Francis Ramacciotti, GHD (francis.ramacciotti@ghd.com)
Francis C. Ramacciotti is an Associate and Senior Risk Assessor with GHD and is located in North Wales, Pennsylvania. Since 2000, Francis has specialized in using risk assessment and risk-based principals to make sound decisions during site investigation and remediation under RCRA, CERCLA, state cleanup programs. At GHD he is responsible for the completion and peer review of human health risk assessments and product stewardship assignments, including material reuse, at hazardous waste sites and industrial facilities in the United States and around the world. He has designed and performed detailed evaluations of the potential use and re-use of brownfield sites, including those where future plans are uncertain and where risk assessments are being used as a dynamic tool to identify reasonable reuse conditions. Prior to GHD, he worked for 16 years in the human health risk assessment field with ENVIRON (Ramboll). Since 2013, Francis has contributed to ITRC as a team member for ITRC's Decision Making at Contaminated Sites: Issues and Options in Human Health Risk Assessment (RISK 3), ITRC Petroleum Vapor Intrusion (PVI 1) teams. Francis earned a bachelor's degree in environmental science from the University of Scranton, in Scranton, Pennsylvania in 1998 and a master's in environmental management from Duke University in Durham, North Carolina in 2000. Francis is an Adjunct Professor teaching Principals of Risk Assessment at USciences in Philadelphia, Pennsylvania.
Moderator:
Nicole Henderson, ITRC Contractor (nicole.henderson@hmenviro.com)

Webinar Slides and References:
Thank you for participating in our webinar. We would like to receive any feedback you might have that would make this service more valuable.
Help & FAQs
Zoom Resources
This seminar will be delivered through Zoom. Participants are encouraged to update to the latest version of the Zoom application for the best experience. If you are unable to install the Zoom application, most functions will be available if you join just using a modern web browser such as Chrome, Edge or Firefox. We strongly encourage you to run the Zoom Meeting Test prior to attending this seminar. Technical support on the day of the seminar will be very limited and subject to significant delays.
Rehabilitation Act Notice for Reasonable Accommodation
It is EPA's policy to make reasonable accommodation to persons with disabilities wishing to participate in the agency's programs and activities, pursuant to the Rehabilitation Act of 1973, 29 U.S.C. 791. Any request for accommodation should be made to at or , preferably one week or more in advance of the seminar, so that EPA will have sufficient time to process the request. EPA would welcome specific recommendations from requestors specifying the nature or type of accommodation needed, such as closed captioning.
with any additional questions
If you have a suggested topic or idea for a future CLU-IN internet seminar, please contact:
Jean Balent
Technology Integration and Information Branch
PH:
202-566-0832 |
Email:
balent.jean@epa.gov
Michael Adam
Technology Integration and Information Branch
PH:
202-566-0875 |
Email:
adam.michael@epa.gov