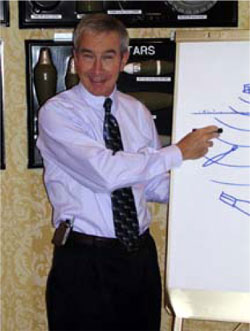 Mr. Murray is a Senior Ordnance Environmental Scientist at the Ordnance Environmental Support Office (OESO) of the Naval Ordnance Safety and Security Activity (NOSSA), Indian Head, Maryland. He provides Explosive Ordnance Disposal (EOD) technical review and oversight at munitions and explosives of concern (MEC) cleanup sites Navy-wide. Previously he worked for Engineering Field Activity Northwest where he was a MEC Remedial Technical Manager for Naval Facilities Engineering Command.

Before joining the Navy, Mr. Murray worked in the private sector, developing, implementing, and overseeing environmental compliance and restoration programs relating to MEC for Federal agencies and industry. Prior to that he served for 26 years in the U.S. Air Force, including 16 years as an EOD officer.

Mr. Murray holds a Bachelor of Science degree in chemistry from the University of Maryland and a Master of Arts degree from the University of Northern Colorado.