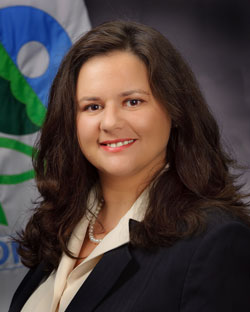 Cecilia De Robertis currently serves as an attorney for the Environmental Protection Agency's Office of Enforcement and Compliance Assurance.

Ms. De Robertis received a Bachelor of Arts in Integrative Biology from the University of California at Berkeley in 2000. She received her law degree from American University's Washington College of Law, where she completed a term as a Note and Comment Editor for the Administrative Law Review. As a law student, she interned at the Environmental Defense Section and the Environmental Enforcement Section of the United States Department of Justice. After graduation, she clerked for the Honorable Spencer T. Nissen, an Administrative Law Judge for the EPA. Subsequently she joined a California private law firm, Bingham McCutchen LLP, where she litigated and advised on cases related to land use, real estate development, and property law.

Ms. De Robertis returned to EPA in 2009 as in her current position at the Office of Site Remediation Enforcement's Policy and Guidance Branch. She specializes in environmental justice, state and local government issues, and institutional controls.