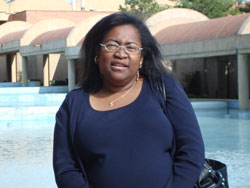 Rose Marie Caraway has worked as an EPA Remedial Project Manager (RPM) for 25 years in the San Francisco Superfund Division. She has a Bachelor of Science degree in Chemistry from Lehigh University in Bethlehem, PA and an MBA in Management from Golden Gate University located in San Francisco, CA. She has constructed remedies or worked on removals at eight Superfund sites. Her experience includes in situ and ex situ soil stabilization, bio treatment, landfill caps, temporary and permanent relocations, groundwater pump-and-treat systems, and innovative technologies such as phytoremediation and electrical resistive heating.

Ms. Caraway is a past NARPM co-chair and was also one of the first editors of "Adventures in Wasteland," which was the first NARPM newsletter established to share information among RPMs.

In addition, Ms. Caraway has over 15 years of experience as a part-time community college instructor teaching computer science courses and holds a lifetime teaching credential for business classes.