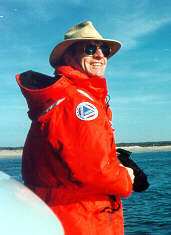 FOCUS: During his thirty-one years with the United States Environmental Protection Agency, Dr. Nadeau was a charter member of the U.S. EPA's Environmental Response Team and served as the Deputy Center Director of the ERT. Past involvements encompass positions as Chief of the ERT's Environmental Impact Section, Regional Biologist for the U.S. EPA Region II and Chief of the Biology Section in the Environmental Services Division, and chief biologist/aquatic toxicologist for the U.S. EPA ORD Oil Spills Research Program. Dr. Nadeau responsibilities included serving as a lead technical expert on the use of in-situ burning, chemical countermeasures and bioremediation at oil spills, and heading up a group of scientists from state and federal agencies, and the private sector, to address the appropriate technical parameters for measuring the effectiveness of chemical countermeasures and plant-assisted bioremediation.

Dr. Nadeau now serves as President and Certified Senior Ecologist with The Eco-Strategies Group, an ecological consulting firm that specializes in ecological restoration, invasive species management and land evaluations in the Northeast. For the past eight years, Dr. Nadeau has served as the Scientific Support Coordinator on the Green Pond Oil Spill Removal Project conducted by EPA's Region II Removal Branch under the direction of OSC Michael F. Solecki. Once delineation of the subsurface oil was accomplished and oil recovery operations commenced, attention was then given to the impact of the operations on the nearby wetland and Pequannock River, a major source of the drinking water for the City of Newark, New Jersey. Restoration and revegetation of the wetland with native shrubs and forbs was initiated in 1998 following oil contaminated soil removal. Since that time, the plant community was surveyed in the Spring and Fall. Invasive species management was included in the project throughout the growing season.

EDUCATION:
| | |
| --- | --- |
| BS in Science | Certification: |
| MS in Zoology | Certified Senior Ecologist |
| Ph.D in Ecology | Methods for Wetland Delineation |
PROFESSIONAL ACTIVITIES/MEMBERSHIPS:
| | |
| --- | --- |
| Sigma Xi | Ecological Society of America |
| Society of Ecological Restoration | Society for Conservation Biology |
PRESENTATIONS/PAPERS: Numerous authored articles and presentations relating to aquatic toxicity of oil and related pollutants, PCBs and oil spill responses, plant-assisted bioremediation of petroleum contaminated soils, and revegetation and restoration of disturbed habitats at superfund and oil spill sites.
HONORS: A Bronze medal for Outstanding Service in behalf of the U.S. EPA in providing international emergency assistance to the United Nations in addressing a major oil spill in the Komi Republic of Russia. Also, a Director's Award for work as a member of the U.S. EPA's Special Response Team sent by the State Department at the request of the Moroccan government.