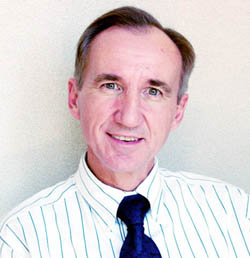 Dr. James Gallup currently manages the Small Business Innovation Research (SBIR) program for the U.S. Environmental Protection Agency. Dr. Gallup works with American businesses with fewer than 500 employees to develop and commercialize new environmental technologies. The SBIR program links these new, cutting-edge, high-risk innovations with EPA programs in water and air pollution control, solid and hazardous waste management, pollution prevention and environmental monitoring.
Dr. Gallup has a Ph.D. in environmental engineering from the University of Oklahoma and is a registered Professional Engineer. He has over 30 years experience with the Environmental Protection Agency. In the 1970's Dr. Gallup was responsible for developing the industrial environmental guidelines for the textile finishing, leather tanning, food processing and chemical industries. In the 1980's Dr. Gallup managed the development and implementation of the industrial pretreatment and NPDES permit programs. This EPA experience required extensive visits to industry factories, many technical and regulatory discussions with public and private organizations and provided a special understanding of the environmental problems and needs of industry. Dr. Gallup also spent 9 years with U.S. Agency for International Development where he designed and implemented the global Environmental Pollution Prevention Project (EP3) in Latin America, Asia, Africa and the Middle East.
As SBIR Program Manager, Dr. Gallup has designed and implemented an accelerated commercialization program in which EPA provides business planning, promotes commercialization partnerships, and provides financial information and economic incentives that help EPA's SBIR companies commercialize new technologies and products in Phase II. The Agency is now receiving more proposals of higher technical quality with outstanding commercial potential. EPA water, air and waste management programs are using SBIR to develop new technologies that will protect the environment in the 21st century.
Dr. Nick Hutson is a research chemical engineer with the Air Pollution Prevention and Control Division (APPCD) in the US EPA's Office of Research and Development (ORD) and Adjunct Assistant Professor in the Department of Environmental Sciences and Engineering at the University of North Carolina at Chapel Hill. Dr. Hutson's current work involves the study of mercury oxidation and binding mechanisms in flue gas and on solid sorbents, stability of mercury and other components in coal combustion residues, separation and capture of CO
2
, and multipollutant control technologies.
Dr. Hutson has been with EPA for just over 3 years. Prior to joining the EPA, he worked for 9 years at the Savannah River National Laboratory (SRNL) where he focused on research involving technologies, including vitrification, for management of radioactive waste. Dr. Hutson received the PhD degree in chemical engineering from the University of Michigan.
Email address:
gallup.james@epa.gov