LIDAR operates on the same principles as RADAR except that it uses light rather than radio waves to collect information. There are three generic types of LIDAR:
Range finders
Differential absorption LIDAR (DIAL)
Doppler LIDARs
Range finders are the simplest of the LIDARs and are used to determine the distance to a solid or hard target. When mounted in an aircraft and coupled with imaging instrumentation and a GPS, these instruments can provide 3-D topographic maps.
DIAL is used to measure chemical concentrations in the atmosphere (open air). A DIAL LIDAR uses a laser wavelength that is strongly absorbed by the target compound and a second nearby wavelength that is not absorbed by the target compound. The difference in intensity of the two return-signals can be used to calculate the concentration of the compound being investigated.
Doppler LIDAR is used to measure the velocity of a moving target. When light transmitted from the LIDAR hits a moving target, the wavelength of the light reflected/scattered off the target changes slightly. This is known as a Doppler shift. This type of LIDAR finds uses in speed limit enforcement and weather predictions (cloud and wind speed as well as density). A complete treatment of LIDAR can be found in Argall and Sica 2002.
LIDARs consist of a source transmitter, receiver, and detector system. All uses of LIDAR involve laser light operated in the UV, visible, or infrared wave range that is transmitted toward a target. The light interacts with the target where it is either absorbed or reflected/scattered back to a measuring device. They can be deployed in monostatic or bistatic configurations. The monostatic configuration is employed the most in contaminant profiling. The system can be set up in either a coaxial configuration where the laser beam is transmitted within the receiver's field of vision or in a biaxial fashion where the transmitting and receiving units are adjacent to each other (Exhibit 1).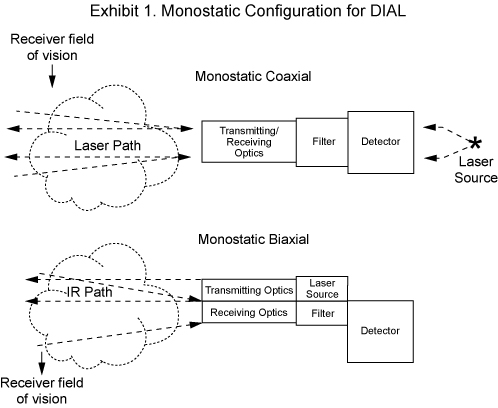 In the bistatic configuration, which is seldom used, the light source and the detector are at some distance apart (Exhibit 2). The receiving optics gather reflected light from the source beam and direct it through a filter to the detector. The bistatic system can only detect light from a small layer of the atmosphere at a time and the detector must be frequently moved to obtain a contaminant profile (Argall and Sica 2002).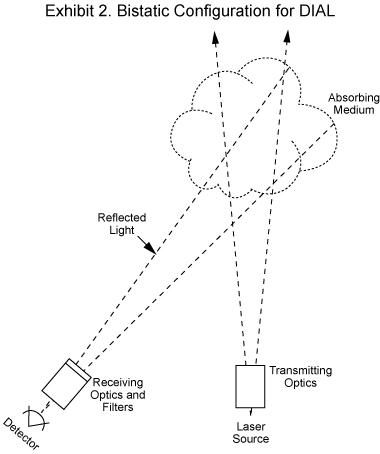 Source
LIDARs use lasers for their source and hence do not require a sending telescope as do Fourier Transform Infrared (FTIR) spectroscopy and Ultraviolet Differential Optical Absorption Spectroscopy (UV-DOAS); however, they generally require a mechanism for widening the laser beam to make it "eye safe." For the DIAL system, an appropriate wavelength is chosen for the species to be measured along with a nearby wavelength that will not be absorbed by the target compound. The laser can be transmitted as a continuous-wave or pulsed source. Continuous waves are used when the signal is integrated over a long time period or when the target is close. Pulsed waves are at a much higher energy level than can be maintained during a continuous emission, and they are used for long-range remote sensing or when the signal integration time needs to be short. Tunable laser systems that allow for quickly changing wavelengths are available to measure a wider range of contaminants.
Receiver
The receiver may have a Cassegrain or Newtonian telescope or a single fixed condensing lens that focuses the returning or transmitted light (depending upon system deployment). Before being directed to the detector, the backscatter light is usually processed to filter out background.
Detector
LIDAR detectors convert the returning light into electrical currents, which are then processed into photocounts. Photomultiplier tubes have been employed the most in DIAL systems, but semiconductor devices, such as mercury-cadmium-telluride (MCT) detectors and avalanche photodiodes are finding increasing use. To function properly MCT detectors have to be cooled to liquid nitrogen temperatures.
Output
Unlike FTIR or UV-DOAS, DIAL produces a measure of discrete concentrations versus distance along the line of the beam path. This allows for the values to be superimposed on a map or other visual aid to show where low and high point concentrations are occurring. A series of closely placed measurements over a site can be plotted to show an estimate of the spatial distribution and quantity of a chemical (e.g., an isopleths map).
LIDAR has historically been used in the environmental field for measuring criteria pollutants in the upper atmosphere. As the equipment becomes more portable and less expensive, it is gaining acceptance for industrial and commercial applications. The proper detection and identification of a chemical species using DIAL is directly dependent upon it having a unique absorption frequency over the path being measured (i.e., there are no other chemicals present that have the same absorption frequency) and the availability of a laser source that emits that frequency. In the past, the lack of laser sources that emit specific bands has limited the number of chemicals that this technology can identify; however, as more reliable tunable lasers become available the list of detectable chemicals should increase. In addition to specific chemical detection, a DIAL system can be used in a more "open" mode much like a point source organic vapor analyzer. In this mode, a chemical family, such as alkanes, is measured by picking a band that is common to many and interpreting the results as an "average." The Alberta Research Council study given below is an example of this use.
Detection limits are largely dependent on the path distance, atmospheric conditions, and the instrument being used. However, an examination of the literature indicates that sub-ppm levels of a variety of chemicals at ranges of one kilometer or more are routine. Exhibit 3 contains detection limits and effective ranges for commonly measured chemicals.
Exhibit 3
Potential Detection Limits for Air Pollutants Using DIAL¹
UV/Visible DIAL System
Pollutants
Detection Limits² µg/m3
Detection Range in Meters
Benzene (C6H6)
10
800
Mercury (Hg)
0.5
3000
Nitric Oxide (NO)
5
500
Nitrogen Dioxide (NO2)
10
500
Ozone (O3)
5
2000
Sulfur Dioxide (SO2)
10
3000
Toluene (C7H8)
10
800
Xylene (C8H10)
20
500
Infrared Dial System
Acetylene (C2H2)
50
800
Ethane (C2H6)
20
800
Ethylene (C2H4)
10
800
Higher Alkanes (CxHx)
40
800
Hydrogen Chloride (HCI)
20
1000
Methane (CH4)
50
1000
Methanol (CH3OH)
200
500
Nitrous Oxide (N2O)
100
800
1 Values are from National Physical Laboratory, United Kingdom
2 The detection limits apply at a range of 200 m for a 50-meter plume
Demonstrated Uses in Environmental and Industrial Settings
Monitoring Emissions from Industrial Processes
Aircraft Exhaust Dispersion at Commercial Airports
LIDAR Uses Suggested by Vendors
Determining the speed of moving objects, such as clouds and wind in weather prediction, or motor vehicles in law enforcement.
Determining the distribution of atmospheric gases from earth, aircraft, or space-based platforms.
Determining the distance to a "hard" object awith proper imaging and GPS, produce 3-D topographical maps.
Measuring various chemical species in an open-path mode, e.g., criteria pollutants, stack plumes, industrial processes, and fence-line monitoring.
Experimental and Potential Uses in Environmental and Industrial Settings
Oil Spill Tracking on Open Water
Remote Sensing of Chemical and Biological Warfare Plant Effluents from Aircraft
Remote Sensing for Natural Gas Pipeline Leaks from Aircraft
Particulate Monitoring for Ore Handling Facilities
Monitoring Contaminant Fluxes from Industrial Stacks
Verification and Monitoring of Cap and Cover System Integrity
---