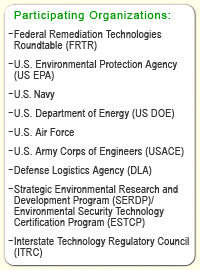 New! Agenda and Poster Displays Now Available
Interested in Attending a Workshop? Click Here for Workshop Descriptions
Printer-Friendly Versions of the Conference Documents Available Below:
(You will need Adobe Acrobat Reader to view the Adobe PDF file. See Adobe's Reader download page for more information about getting and using the free Acrobat Reader.)
Conference Goals
Outline long-term remediation liabilities and optimization needs and opportunities
Disseminate existing and emerging optimization strategies, technologies, tools, and science
Communicate lessons learned. Identify technical, institutional, contractual, and other enhancements and encumbrances to achieving positive optimization results
Present remedial optimization within the context of site wide and multi-site management programs
Who Should Attend Top
Remediation program managers responsible for program planning and costs
Public health and regulatory officials responsible for protection of public and environmental health and risk mitigation
Remediation system operators and project managers responsible for system performance, costs, and schedule
Optimization service developers and service providers
Registration Top
There is no registration fee for this conference.
Pre-registration is now closed. Walk-ins are welcome.
Location and Hotel Information Top
The conference will be held at the following location:
The Westin City Center Dallas
650 N. Pearl Street
Dallas, TX 75201
Phone: (214) 979-9000
Fax: (214) 953-1931
Overflow Hotel (connected to the Westin City Center via a sky bridge)
Adam's Mark Hotel
400 North Olive Street
Dallas, TX 75201
Phone: (214) 922-8000
The block of rooms at the Westin City Center in Dallas has sold out. We have arranged for the overflow at the Adam's Mark Hotel which is connected to the Westin City Center via a sky bridge. Please call the Adam's Mark Hotel at (214) 922-8000 and reference the "Optimization Conference" to receive the conference rate (which is the same as at the Westin City Center). The conference rate is $95.00 (or the prevailing government per diem rate) plus tax per night for single occupancy.
Please secure your hotel accommodations as soon as possible. Reservations must be made at the Adam's Mark Hotel by 5:00 PM on June 5, 2004.
Logisitics
For detailed information on transportation options, directions to the hotel, and parking information, click here (Adobe PDF format, 78KB).
Inquiries Top
For additional information, please direct inquiries to:
Larissa Skipper, SAIC
Phone: (703) 318-4633
Fax: (703) 318-4755
Email: tcs-events@saic.com

It is EPA's policy to make reasonable accommodation to persons with disabilities wishing to participate in the Agency's programs, pursuant to the Rehabilitation Act of 1973, 29 U.S.C. 791. Any request for accommodation should be made to Larissa Skipper, SAIC, at tcs-events@saic.com by Friday, May 14, 2004, so that EPA will have sufficient time to process the request.