Superfund Research Program Progress in Research Webinar Part 1: Metals
Sponsored by: NIEHS Superfund Research Program
Archived: Wednesday, October 21, 2020

View Archive
The NIEHS Superfund Research Program (SRP) Progress in Research webinar series highlights promising research from SRP Centers awarded grants in 2020. In this session, awardees from Harvard School of Public Health, University of North Carolina-Chapel Hill, and University of Arizona will describe their research projects, accomplishments, and next steps.

The Harvard School of Public Health Center, "Metals and Metal Mixtures: Cognitive Aging, Remediation, and Exposure Sources (MEMCARE)," focuses on understanding the effects of exposure to heavy metals (Pb, As, Mn, Cd, Cr, and Se) and metal mixtures on late-life cognitive health. Center scientists also conduct research on remediation strategies for these exposures to reduce the risk of cognitive decline and memory loss in older populations.

The University of North Carolina-Chapel Hill SRP Center works to address public health challenges related to inorganic arsenic (iAs) contamination of private drinking water wells. Their research explores the biological mechanisms and susceptibility factors underlying diseases associated with iAs exposure, with a focus on diabetes. They also investigate methods for predicting well water contamination by arsenic and other toxic metals, along with removal strategies. Center scientists hope to develop interventions to reduce the prevalence of iAs-associated diabetes and other diseases.

The University of Arizona SRP Center, "Exposures, Health Impacts, and Risk for Mine Waste Contamination," is addressing the unique human health risks encountered in the U.S. Southwest, where distinct geologic and climatic attributes affect human health and exposures to a variety of toxicants, especially arsenic. Arsenic exposure has been linked to the development of diabetes which is especially prevalent in vulnerable populations residing near metal-mining sites. Center scientists are investigating how chronic exposure to arsenic-containing mine waste contributes to the development of diabetes and how exposure can be prevented through a combination of innovations related to the characterization of legacy mine sites and remediation strategies, data science interoperability, and community-engaged health promotion.
Accessibility, Recording, and Content Disclaimer
Rehabilitation Act Notice for Reasonable Accommodation
It is EPA's policy to make reasonable accommodation to persons with disabilities wishing to participate in the agency's programs and activities, pursuant to the Rehabilitation Act of 1973, 29 U.S.C. 791. Any request for accommodation should be made to Kerri Voelker at 919-794-4710 or kerri.voelker@nih.gov, preferably one week or more in advance of the webinar, so that EPA will have sufficient time to process the request. EPA would welcome specific recommendations from requestors specifying the nature or type of accommodation needed. Please note that CLU-IN provides both alternate phone call-in options and closed captioning for all webinars, and requests for these specific accommodations are not necessary.
Webinar Recording
By participating in this CLU-IN webinar, you automatically agree to authorize recording of audio and visual content presented during this live event and consent to subsequent use of this recording in the public domain by the U.S. Environmental Protection Agency. This recording may include questions, comments and poll responses provided by you during the live event in addition to your name, voice, image or likeness. This recording will be made available after the conclusion of the live event as part of the CLU-IN webinar archives, and will remain available indefinitely. If you do not wish to consent to the recording, please do not join the live event, and contact Jean Balent at 202-566-0832 or balent.jean@epa.gov to discuss your concerns.
Content Disclaimer
This webinar is intended solely to provide information to the public. The views and opinions expressed as part of this webinar do not necessarily state or reflect those of the U.S. Environmental Protection Agency. It is not intended, nor can it be relied upon, to create any rights enforceable by any party in litigation with the United States, or to endorse the use of products or services provided by specific vendors. With respect to this webinar, neither the United States Government nor any of their employees, makes any warranty, express or implied, including the warranties of merchantability and fitness for a particular purpose, or assumes any legal liability or responsibility for the accuracy, completeness, or usefulness of any information, apparatus, product, or process disclosed, or represents that its use would not infringe privately owned rights.
Presenters: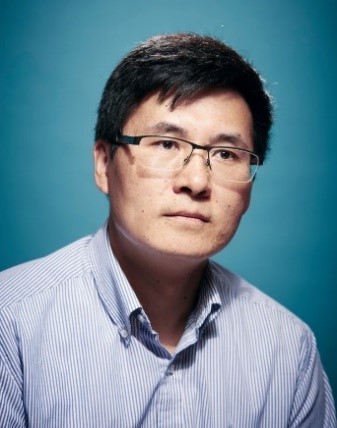 Quan Lu, Ph.D., Harvard T.H. Chan School of Public Health (qlu@hsph.harvard.edu or 617-432-7145)
Quan Lu, Ph.D., is Professor of Environmental Genetics and Physiology at Harvard T.H. Chan School of Public Health. He directs the MEMCARE Superfund Research Center and also co-directs the Molecular and Integrative Physiological Sciences Training Program at the Harvard Chan School. His laboratory studies molecular mechanisms underlying complex gene-environment interactions in multigenic human diseases such as asthma and neurodegeneration, focusing in part on the emerging role of extracellular vesicles in disease pathogenesis, prevention, and therapeutics. Lu received his Ph.D. in Molecular Biology from Iowa State University and did his postdoctoral training in genetics at Stanford University.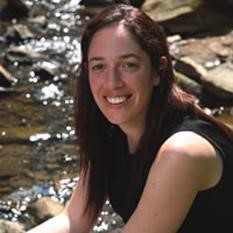 Julie Zimmerman, Ph.D., Yale University (julie.zimmerman@yale.edu or 203-432-9703)
Julie Zimmerman, Ph.D., is an internationally recognized engineer whose work is focused on advancing innovations in sustainable technologies. She holds joint appointments as a Professor in the Department of Chemical and Environmental Engineering and School of the Environment at Yale University. She also serves at the Senior Associate Dean for Academic Affairs at the Environment School. In 2020, Zimmerman was named as the Editor in Chief of Environmental Science & Technology, the most cited journal in the fields of Environmental Science and Engineering. Her pioneering work established the fundamental framework for her field with her seminal publications on the "Twelve Principles of Green Engineering" in 2003. She demonstrates this framework in her research including breakthroughs on the integrated biorefinery, designing safer chemicals and materials, creating novel materials for water purification, and analyzing the water-energy nexus.

Prior, Zimmerman was an Engineer and program manager at the U.S. Environmental Protection Agency leading the national sustainable design competition, P3 (People, Prosperity, and Planet) Award, which has engaged design teams from hundreds of universities across the U.S. She is the co-author of the textbook, Environmental Engineering: Fundamentals, Sustainability, Design that is used in the engineering programs at leading universities.

Zimmerman earned her B.S. from the University of Virginia and her Ph.D. from the University of Michigan jointly from the School of Engineering and the School of Natural Resources and Environment. In addition, she is an Associate Editor of the journal, Environmental Science and Technology and is a Member of the Connecticut Academy of Sciences.
Kathy James, Ph.D., University of Colorado Anschutz Medical Campus (kathy.james@cuanschutz.edu or 303-724-8169)
Kathy James, Ph.D., is an epidemiologist and engineer who specializes in environmental and climate risk factors and health in vulnerable populations. She has experience in leading and conducting community-based research projects including NIEHS funded studies investigating exposure to metals (arsenic and cadmium) and cardiometabolic and kidney diseases. Her research was one of the first to show associations with low-level arsenic exposure (<50 µg/L) with direct relevance to the exposure range of the US population. James also completed a Faculty Development Investigator Award through the Denver Children's Environmental Health Center at National Jewish Health investigating the association between air quality and respiratory burden in the San Luis Valley and recently led a CDC funded biomonitoring tracking grant in a pediatric population in the San Luis Valley measuring exposures to 17 metals, pyrethroids, phthalates, and other pesticides through urine and water samples. She is also the PI for The Attitudes and Behaviors Study, a repeated population-based survey of tobacco and marijuana use and other public health issues.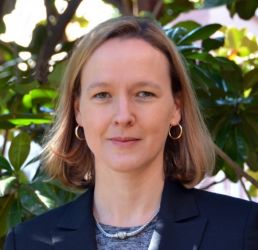 Rebecca Fry, Ph.D., University of North Carolina SRP Center (rfry@email.unc.edu or 919-843-6864)
Rebecca Fry, Ph.D., is the Carol Remmer Angle Distinguished Professor in Children's Environmental Health and Associate Chair at the Gillings School of Global Public Health at the University of North Carolina-Chapel Hill in the Department of Environmental Sciences and Engineering. She is the founding Director of the Institute for Environmental Health Solutions (IEHS) at UNC-Chapel Hill and is a leading expert in environmental epigenetics and toxicogenomics. A major focus of her laboratory is to identify mechanisms underlying the deleterious impacts of toxic exposures during the prenatal period with a focus on the epigenome and developmental origins of health and disease. Her group has identified epigenetic mechanisms that relate toxic substances to pregnancy complications, children's health, and cancer outcomes. Fry's laboratory uses transdisciplinary approaches including human population-based research, cell culture-based research and mouse model-based research to refine the understanding of chemical exposure and toxicity. Her lab has published on a host of toxic substances including but not limited to acetaminophen, arsenic, cadmium, disinfection byproducts, and per- and polyfluoroalkyl substances (PFAS). She has participated in advisory committees and expert panels, including the committee for the National Academies of Science (NAS) National Research Council for the Integrated Risk Information System (IRIS) review of inorganic arsenic, a reviewer for the cancer and non-cancer risk assessment of arsenic in food by the Food and Drug Administration (FDA), and a reviewer for the International Agency for Research on Cancer (IARC). Fry received her Ph.D. in biology from Tulane University with dissertation research at Yale University and her B.S. in biology from William Smith College (Magna Cum Laude). Her post-doctoral training was carried out at Massachusetts Institute of Technology (MIT) in toxicogenomics and environmental health sciences.
Raina Maier, Ph.D., University of Arizona (rmaier@ag.arizona.edu or 520-621-7231)
Raina Maier, Ph.D., is an environmental microbiologist in the Department of Environmental Science at the University of Arizona. Her research program focuses on understanding how we can exploit microbes and their activities and products to benefit human health and the environment. She is known for her work on the relationships between microbial diversity and ecosystem function in arid and semi-arid environments with a focus on mine tailings and desert soils. Dr. Maier serves as the Director of the University of Arizona NIEHS Superfund Research Center which seeks to understand the health impacts and advance innovative solutions for remediation of mine waste sites. Related to mining, her group's innovative work on establishing vegetative caps on mine waste is changing the way we think about and evaluate the revegetation process.
Donna Zhang, Ph.D., University of Arizona (dzhang@pharmacy.arizona.edu or 520-275-4761)
Donna Zhang, Ph.D., is the associate director of the University of Arizona NIEHS Superfund Research Center, Musil Family Endowed Chair in Drug Discovery, and professor of pharmacology and toxicology at the University of Arizona since 2005. She got her Ph.D. in Molecular Toxicology at New York University in 1997, and then trained as a postdoctoral fellow at DuPont-Haskell Laboratory. As a trained toxicologist, understanding how the human body responds to and defends against environmental contaminants (i.e. via the NRF2 response) to alleviate subsequent damage/pathogenesis, particularly in the context of arsenic exposure, has been a cornerstone of her research. Over the past 20 years, she has become an internationally recognized leader in the field of the NRF2-KEAP1-ARE signaling pathway and metal toxicity. She has published over 150 well-received papers, as evidenced by her total number of citations (27454) and h-index (65) [Google Scholar as of September 15, 2020]. She has made seminal contributions to both the mechanistic understanding of NRF2 regulation, as well as the role of NRF2 in human disease, with an emphasis on cancer and diabetes promoted by arsenic exposure. She has mentored numerous Ph.D. students and postdoctoral fellows, who have successful careers as professors in environmental health-related research or are lead toxicologists in industry, and one that is an associate editor of Cancer Cell.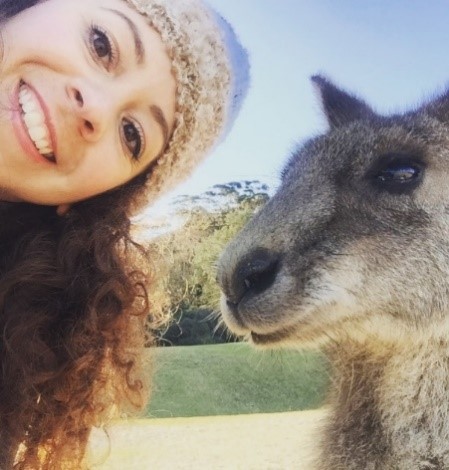 Mónica Ramírez-Andreotta, Ph.D., University of Arizona (mdramire@arizona.edu or 520-621-0091)
Mónica Ramírez-Andreotta, Ph.D., is an assistant professor of environmental science with a joint appointment in the College of Public Health at the University of Arizona. She serves as the director of the University of Arizona NIEHS Superfund Research Center Research Translation effort. Ramírez-Andreotta is a community-engaged environmental health scientist investigating the fate and transport of pollutants in environmental systems, exposure pathways, phytotechnologies, and ways to improve environmental health literacy. As such, she is often found talking to and training communities and hosting community gatherings and data sharing events. Ramírez-Andreotta is a playful, highly spirited individual who enjoys hanging with her boo, exercise, and democratizing science. She Tweets @EnvSci_G_Roots.
Moderators: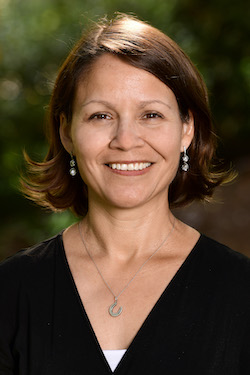 Danielle J. Carlin, Ph.D., D.A.B.T., Health Scientist Administrator, Superfund Research Program, National Institute of Environmental Health Sciences (danielle.carlin@nih.gov)
Danielle Carlin, Ph.D., D.A.B.T., is a health scientist administrator with the NIEHS Superfund Research Program (SRP). Her position consists of providing guidance and advice to grantees applying for SRP Center grants and serving as the lead liaison between SRP trainees and the various training opportunities offered by SRP. Her current research interests include chemical mixtures, combined exposures, metals, asbestos, and xenobiotic metabolism. Dr. Carlin conducted her postdoctoral training at the University of North Carolina, where she first studied aerosolized drugs/vaccines for treatment and prevention of tuberculosis for two years and then focused on the toxicological effects of exposure to Libby amphibole asbestos in the rat model. She received her Ph.D. in 2005 from Kansas State University, College of Veterinary Medicine, Department of Anatomy and Physiology. She also has a B.S. and M.S. in animal science from New Mexico State University.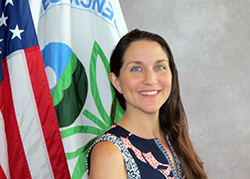 Jean Balent, U.S. EPA Technology Innovation and Field Services Division (balent.jean@epa.gov or 202-566-0832)
Ms Balent is on the staff of the EPA's Technology Innovation and Field Services Division where she has worked to collect and disseminate hazardous waste remediation and characterization information since 2003. Ms Balent manages the Clean Up Information Network website and actively supports online communication and collaboration resources available to EPA. She formerly worked with the US Army Corps of Engineers Environmental Engineering Division in the Buffalo District. Ms Balent was also a member of the SUNY-Buffalo Groundwater Research Group where she constructed and tested large scale models of groundwater flow. Ms Balent has also conducted research relating to the Great Lakes, environmental remediation, and brownfields re-development. She holds a Bachelor's degree in environmental engineering from SUNY-Buffalo and a Master's degree in Information Technology from AIU.
If you have a suggested topic or idea for a future CLU-IN internet seminar, please contact:
Jean Balent
Technology Integration and Information Branch
PH:
202-566-0832 |
Email:
balent.jean@epa.gov
Michael Adam
Technology Integration and Information Branch
PH:
202-566-0875 |
Email:
adam.michael@epa.gov