Biogeochemical Interactions Affecting Bioavailability for in Situ Remediation: Session I - Innovative Approaches for Chlorinated Compound Bioremediation in Groundwater
Sponsored by: NIEHS Superfund Research Program
Archived: Monday, April 22, 2019

View Archive
This webinar series will feature individual research projects funded by the NIEHS Superfund Research Program (SRP). In 2013, the SRP initiated a targeted research program to better understand how contaminants in the environment are affected by complex biological, geological, and chemical processes. By understanding these complex interactions, we are better equipped to optimize remediation strategies and, therefore, improve science-based decision making for site management, priority-setting, and remedy selection. The individual research project grants support problem-solving research on the mechanisms of biogeochemical interactions that may impact remediation of contaminated soil, sediment, surface water, or groundwater.

In session 1, we will hear about SRP-funded individual research projects at Johns Hopkins University, University of Tennessee, and University of California, Berkeley. The first session will also include a brief introduction to the targeted research program and cohort of awardees.

Researchers led by Edward Bouwer, Ph.D., at Johns Hopkins Whiting School of Engineering are evaluating a novel technology — a flow-through barrier containing granular activated carbon coated with anaerobic and aerobic microorganisms — to see if it can completely break down chlorobenzenes and benzene contaminants, which are known or suspected carcinogens. The researchers seek to understand the environmental processes and conditions that influence interactions among contaminants and the barrier to improve its effectiveness in contaminated groundwater. Laboratory and field tests are being conducted at the Standard Chlorine of Delaware, Inc. Superfund site where dense non-aqueous phase liquid (DNAPL) chlorobenzene contamination is present in wetland sediments and groundwater. For more information, please visit: Dual-Biofilm Reactive Barrier for Treatment of Chlorinated Benzenes at Anaerobic-Aerobic Interfaces in Contaminated Groundwater and Sediments.

At the University of Tennessee, Frank Loeffler, Ph.D., and his research team are investigating the role of the microbial community for supplying specific nutrients called corrinoids, which organohalide-respiring Dehalococcoidia require to dechlorinate and detoxify solvents such as tetrachloroethene (PCE) and trichloroethene (TCE). The team is designing and validating the B12-qChip — an innovative, high-throughput quantitative PCR tool — that can be used to recognize when the bioavailability corrinoids limits dechlorination activity. Using samples from Third Creek, a polluted creek in Knoxville, Tennessee, they are conducting detailed studies that combine cultivation-based approaches, high-throughput sequencing, bioinformatics analyses, and state-of-the art analytical procedures to reveal the best biogeochemical conditions for bioremediation. For more information, please visit: Biogeochemical Controls over Corrinoid Bioavailability to Organohalide-Respiring Chloroflexi.

Assistant Project Scientist Shan Yi, Ph.D., will describe a project at the University of California, Berkeley led by Lisa Alvarez-Cohen, Ph.D., using a combination of molecular, biochemical, and analytical tools to evaluate how microbes used for trichloroethene (TCE) bioremediation interact with co-existing organisms in various geological, chemical, and biological conditions. The researchers are constructing simplified groups of microbes living symbiotically that they will expose to stresses such as changes in salinity as well as the introduction of potential competitive electron acceptors to the system (e.g., sulfate ions) to see how TCE bioremediation is affected. They will also combine intercellular data gained from both microarray and RNA sequencing techniques to develop mechanistic models that describe the effects of geochemical parameters on bioremediation. For more information, please visit: Metabolic Interactions Supporting Effective TCE Bioremediation under Various Biogeochemical Conditions.
Accessibility, Recording, and Content Disclaimer
Rehabilitation Act Notice for Reasonable Accommodation
It is EPA's policy to make reasonable accommodation to persons with disabilities wishing to participate in the agency's programs and activities, pursuant to the Rehabilitation Act of 1973, 29 U.S.C. 791. Any request for accommodation should be made to Sara Amolegbe at 919-213-4906 or sara.amolegbe@nih.gov, preferably one week or more in advance of the webinar, so that EPA will have sufficient time to process the request. EPA would welcome specific recommendations from requestors specifying the nature or type of accommodation needed. Please note that CLU-IN provides both alternate phone call-in options and closed captioning for all webinars, and requests for these specific accommodations are not necessary.
Webinar Recording
By participating in this CLU-IN webinar, you automatically agree to authorize recording of audio and visual content presented during this live event and consent to subsequent use of this recording in the public domain by the U.S. Environmental Protection Agency. This recording may include questions, comments and poll responses provided by you during the live event in addition to your name, voice, image or likeness. This recording will be made available after the conclusion of the live event as part of the CLU-IN webinar archives, and will remain available indefinitely. If you do not wish to consent to the recording, please do not join the live event, and contact Jean Balent at 202-566-0832 or balent.jean@epa.gov to discuss your concerns.
Content Disclaimer
This webinar is intended solely to provide information to the public. The views and opinions expressed as part of this webinar do not necessarily state or reflect those of the U.S. Environmental Protection Agency. It is not intended, nor can it be relied upon, to create any rights enforceable by any party in litigation with the United States, or to endorse the use of products or services provided by specific vendors. With respect to this webinar, neither the United States Government nor any of their employees, makes any warranty, express or implied, including the warranties of merchantability and fitness for a particular purpose, or assumes any legal liability or responsibility for the accuracy, completeness, or usefulness of any information, apparatus, product, or process disclosed, or represents that its use would not infringe privately owned rights.
Presenters: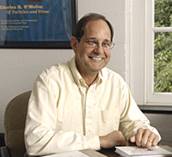 Edward Bouwer, Ph.D., Johns Hopkins Whiting School of Engineering (bouwer@jhu.edu or 410-516-7437)
Edward Bouwer Ph.D., is the Abel Wolman Professor of Environmental Engineering at the Johns Hopkins Whiting School of Engineering. He has extensive experience with drinking water and wastewater treatment processes, microbial process engineering, and contaminant transport and fate. He is the principal investigator for the Dual-Biofilm Reactive Barrier for Treatment of Chlorinated Benzenes at Anaerobic-Aerobic Interfaces in Contaminated Groundwater and Sediments SRP R01 grant. Bouwer's research provides guidance on defining and managing environmental risks and how to interpret human and ecological health risk data. He directs the Center for Contaminant Transport, Fate, and Remediation, established to study the effects of contamination in Maryland's urban environments and make these findings known and understood by public officials, groups, and the media. He has a BSCE in Civil Engineering from Arizona State University, and an M.S. and Ph.D. in Environmental Engineering and Science from Stanford University.
Frank Loeffler, Ph.D., University of Tennessee (frank.loeffler@utk.edu or 865-974-4933)
Frank Loeffler, Ph.D., is the Governor's Chair Professor in the department of microbiology and department of civil and environmental engineering at the University of Tennessee. He is the principal investigator for the Biogeochemical Controls over Corrinoid Bioavailability to Organohalide-Respiring Chloroflexi SRP R01 grant. His lab focuses on discovering microorganisms and processes to clean the environment, counter damage done to ecosystems by human activity, and improve environmental health. He studies how naturally occurring bacteria break down pollutants like chlorinated solvents, radioactive wastes, and greenhouse gases. He has a B.S. in agricultural sciences and biology and an M.S. in microbiology from the University of Hohenheim in Germany, a Ph.D. in technical biochemistry and microbiology from the Technical University Hamburg, University of Hohenheim, and completed a postdoc in microbial ecology at Michigan State University.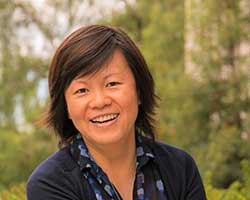 Shan Yi, Ph.D., University of California, Berkeley (shan_yi@berkeley.edu or 510-965-5488)
Shan Yi, Ph.D., is an assistant project scientist in the Department of Civil and Environmental Engineering at the University of California, Berkeley. Her research focuses on investigating microbial metabolism and syntrophic interactions and their impact on the performance of bioprocesses in environmental engineering, such as bioremediation of chlorinated solvents. Shan obtained her Ph.D. in Environmental Engineering from Nanyang Technological University in Singapore and her baccalaureate in Biochemical Engineering from Tianjin University in China.
Moderators: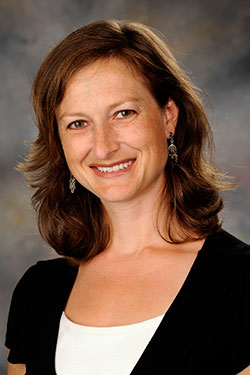 Heather F. Henry, Ph.D., Program Administrator, NIEHS Superfund Research Program (heather.henry@nih.gov)
Heather Henry, Ph.D., is a health science administrator for the NIEHS where she oversees Superfund Research Program (SRP) grants that spans human health toxicology, risk assessment, detection technologies and remediation approaches. She provides guidance to potential applicants for SRP's Multiproject Center Grants (P42s), Individual Research Grants (R01s), Small
Business / Technology Transfer Grants (R41-44; SBIR/STTR), and Conference Grants (R13). Heather studied plant-based environmental remediation
(phytoremediation) and ecological restoration as part of her doctoral work at the University of Cincinnati and as a Fulbright Postdoctoral Fellow at the University of Melbourne and University of Adelaide in Australia. She has been with NIEHS since 2006.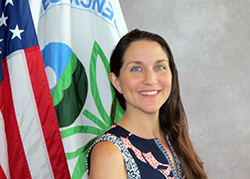 Jean Balent, U.S. EPA Technology Innovation and Field Services Division (balent.jean@epa.gov or 202-566-0832)
Ms Balent is on the staff of the EPA's Technology Innovation and Field Services Division where she has worked to collect and disseminate hazardous waste remediation and characterization information since 2003. Ms Balent manages the Clean Up Information Network website and actively supports online communication and collaboration resources available to EPA. She formerly worked with the US Army Corps of Engineers Environmental Engineering Division in the Buffalo District. Ms Balent was also a member of the SUNY-Buffalo Groundwater Research Group where she constructed and tested large scale models of groundwater flow. Ms Balent has also conducted research relating to the Great Lakes, environmental remediation, and brownfields re-development. She holds a Bachelor's degree in environmental engineering from SUNY-Buffalo and a Master's degree in Information Technology from AIU.
Webinar Slides and References:
Slide Presentation for Edward Bouwer, Ph.D., Johns Hopkins Whiting School of Engineering:
Slide Presentation for Frank Loeffler, Ph.D., University of Tennessee:
Slide Presentation for Shan Yi, Ph.D., University of California, Berkeley:
Webinar Slides and References:
Slide Presentation for Edward Bouwer, Ph.D., Johns Hopkins Whiting School of Engineering:
Slide Presentation for Frank Loeffler, Ph.D., University of Tennessee:
Slide Presentation for Shan Yi, Ph.D., University of California, Berkeley:
Additional Resources:
If you have a suggested topic or idea for a future CLU-IN internet seminar, please contact:
Jean Balent
Technology Integration and Information Branch
PH:
202-566-0832 |
Email:
balent.jean@epa.gov
Michael Adam
Technology Integration and Information Branch
PH:
202-566-0875 |
Email:
adam.michael@epa.gov