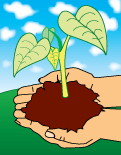 Ecological reuse returns polluted or otherwise disturbed lands to a functioning and sustainable use by increasing or improving habitat for plants and animals. "Ecological land reuse" is a broad term that encompasses a number of interrelated activities including the reconstruction of antecedent physical conditions, chemical adjustment of the soil and water, and biological manipulation which includes the reintroduction of native flora and fauna.
Why restore disturbed or contaminated lands?
Habitat preservation is key to an ecosystem's health and well-being, and there is a growing awareness that restoration is essential to recover ecosystems that have been degraded or destroyed. Furthermore, contaminated or disturbed sites that have been restored are once again available for public use and enjoyment
The public's interest in the renewal of natural ecosystems has grown steadily during the past few decades. EPA's Superfund Redevelopment Program assists communities in returning some of the nation's worst hazardous waste sites to safe and productive uses. While the Agency works to protect human health and the environment, EPA also works with communities and other partners to consider future uses for restored Superfund sites. Many sites are now being used as parkland, agricultural land, residences and commercial space.
Ecological reuse can be incorporated into site remediation plans for Superfund sites because it provides habitat for wildlife and is not considered beautification or enhancement. Returning contaminated sites to beneficial use not only allows local communities to reclaim lost land – it can also lead to increased property values, a higher tax base, and protected open space. In addition, when local interests have a stake in the revitalized property, the chances are greater for continued productive use.
Benefits of Ecological Land Reuse
Provides wildlife habitat
Sequesters carbon
Remediates and beneficially reuses damaged lands
Improves property values
Improves image
Reduces wind and water erosion of contaminants
Protects water resources
Creates green spaces and corridors
Improves the community by removing stigma associated with prior waste sites
Bunker Hill Mining and Metallurgical Complex (OU2 and 3), Idaho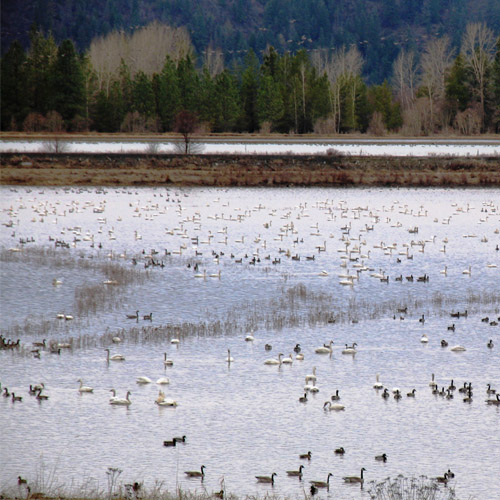 Ecological revitalization, as part of a decades-long cleanup of the Bunker Hill Mining and Metallurgical Complex in Idaho, is creating sustainable ecosystems after more than 100 years of historic commercial mining, milling and smelting operations.
Occidental Chemical Corporation, Montague, Michigan RCRA Case Study
Before and after photos show the transformation of a former chemical manufacturing site into thriving wetland, prairie, and woodland habitat. The closure of Occidental Chemical Corporation facility in Montague, Michigan in 1983 left behind soil and groundwater contaminated with chlorinated organic chemicals.
Why are ecosystems important to ecological land reuse?
Project managers seeking to return a contaminated site to a safe and productive use should look not only to the future of the site; but also consider its past structure and function by looking at the site as an ecosystem – a dynamic environment of living organisms and non-living matter intricately connected by energy and nutrient flows.
Many reuse projects focus solely on manipulating certain elements, such as soil, vegetation, and hydrology, with little attention paid to the links between these and the broader landscape and biosphere. Such actions may not necessarily address all of the ecosystem's needs. Other living organisms, such as insects, wildlife, and microorganisms also form an integral part of the system and must be accounted for, if possible, for the system to flourish. For example: many of the native flowering plant species in the United States rely on bees, hummingbirds or other pollinators to help them reproduce and disperse across the landscape. The flowers and the hummingbird have a symbiotic relationship that benefits them both – the flower produces nectar that the hummingbird feeds on, and the hummingbird carries pollen from one flower to the next, allowing it to reproduce. If a degraded site is repopulated with native wildflowers, but no pollinators are introduced into the site, the native plants may die out and be replaced by invasive species. In order to maintain desired levels of native plant diversity, the restoration and reuse process therefore must ensure that an adequate level of pollinator species is present.
Ecosystem-based reuse can be an important aspect of many remediation projects. If the goal is to return a site to a close approximation of its natural, pre-disturbance state, then an ecosystem-based approach is essential. This approach will ensure that the newly restored site once again becomes an integral part of its environment. More information can be found here: Climate Change and Ecosystems.