For more information on Optimization, please contact:
Kirby Biggs
Technology Integration and Information Branch
PH:
202-823-3081 |
Email:
biggs.kirby@epa.gov
Overview
Key Optimization Components: Green Remediation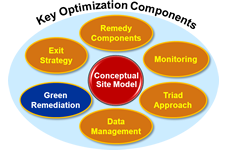 The EPA's definition of Green Remediation is:
"The practice of considering all environmental effects of remedy implementation and incorporating options to minimize the environmental footprint of cleanup activities."
It considers five core elements:
Energy - reducing total energy use and increasing the percentage of energy from renewable resources
Air - reducing air pollutants and greenhouse gas emissions
Water and water resources - reducing water use and negative impacts on water resources
Materials and waste management - improving materials management and waste reduction efforts
Land and ecosystems - protecting ecosystem services during site cleanup
Green Remediation qualitative and quantitative evaluations is now a standard component of optimization technical support. To find more information about Green Remediation principles, practices and methods, please visit EPA�s website and the CLU-IN website listed in the resources below.
Selected Resources
Click on a column heading to sort the table. Search for additional publications or resources by keyword or topic using the Search page.