Characterization, Cleanup, and Revitalization of Mining Sites
Case Studies
EPA; other government agencies; state, local, and tribal governments; as well as private entities have successfully remediated and restored numerous current, former, and abandoned mining areas throughout the United States. This page presents some of these successfully restored sites as well as sites still in progress. More detailed information about these sites can be found by visiting the links under each case study.
For a more comprehensive list of abandoned mine lands and abandoned mine restoration projects, visit the EPA Abandoned Mine Lands program website. See also, the case studies compiled by the Interstate Technology Regulatory Council's (ITRC) Mining Waste Team.
 ↩
Hard Rock Mines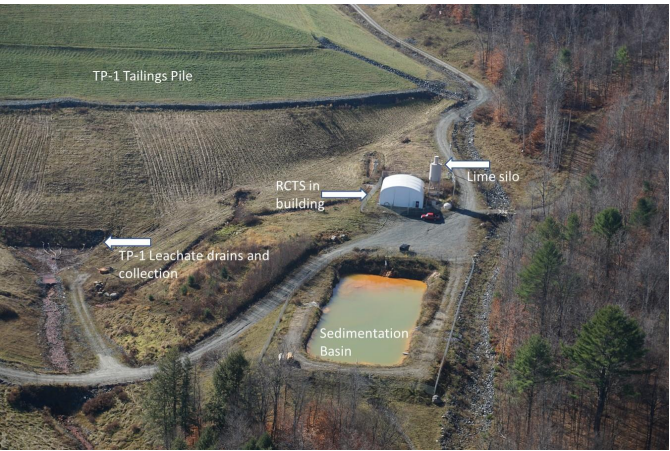 Aerial view of RCTS treatment building and sedimentation basin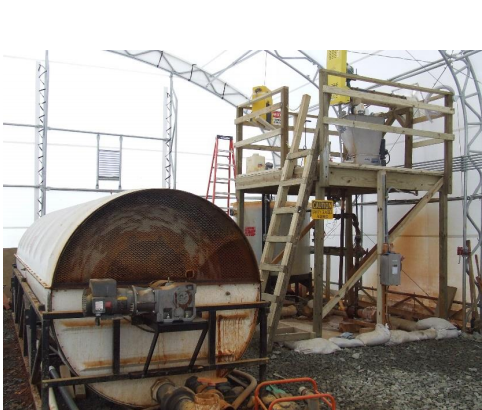 Inside the RCTS treatment building
Historical mining operations at the Elizabeth Mine contaminated local water bodies with mining wastes and mine drainage. An active treatment approach was selected for the leachate emanating from the base of a tailings pile due to the mine's location, available land area, and the high levels of iron. The Rotating Cylinder Treatment System™ (RCTS™) followed by a sedimentation basin was constructed. The RCTS is a form of lime (calcium hydroxide) precipitation treatment. Contaminated water is mixed with lime slurry in shallow troughs while rotating perforated cylinders aerate and agitate it. Precipitated metal hydroxides and oxides coat the lime particles which are removed in the sedimentation basin. Over eight years of seasonal operation from 2009-2017, the remedy effectively lowered the maximum annual total iron concentration treated from 1,700 mg/l to less than 1mg/l.
Tailings area in 2014 prior to construction of vegetative cover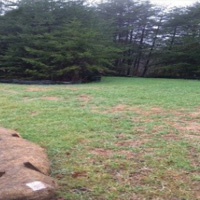 Tailings area after construction of vegetative cover in 2016
From 1947 to 1965, kyanite was open-pit mined atop Henry's Knob. Ore-grade rock was ground up and processed by flotation to liberate kyanite from the ore. The leftover ground-up waste rock and spoils were dewatered and left in piles onsite. Today, the responsible party is working with state and federal agencies to take an adaptive management approach to mitigate ongoing erosion of the mine tailings and minimize the potential for further impacts to groundwater and nearby streams from acid mine drainage.
This adaptive management approach involves stepwise implementation of media-specific remedies that are evaluated for effectiveness. The first step is to revegetate the barren tailings areas to reduce their erosion and the infiltration of water. The goal is to decrease the acid mine drainage impacting groundwater and nearby streams. Studies were conducted to create a soil profile with a sufficient organic content and pH to support the growth of native vegetation and pollinators. The local cooperative extension, EPA and SC Department of Health and Environmental Conservation helped the responsible party add a pollinator seed mix to the original pilot study mix that would both establish native plants and support pollinators for all plantings. Native vegetation and pollinator habitat are now well established on the tailings areas, and all of the tailing areas will be vegetated by the mid-2018. Several lessons have been learned thus far from the adaptive management process: consider revitalization options early in the cleanup process; use local knowledge and materials, when possible; consider new cleanup ideas as well as traditional ones; and purchase materials locally. Monitoring is ongoing to evaluate the effectiveness and other benefits of revegetation. Based on this evaluation, the need for a groundwater remedy will be assessed.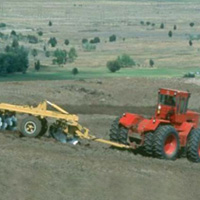 Soil Tilling at the Anaconda Smelter Site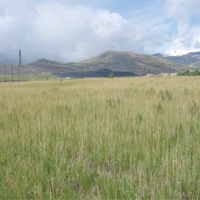 Perennial grasses now cover the Site
Contamination from nearly 100 years of copper smelter operations affected the health and quality of the environment at the Ancaconda Smelter Site. Estimates indicate that more than a billion gallons of groundwater were contaminated and thousands of acres of soil were affected by fluvially transported mine wastes and smelter emissions. The massive 300-square-mile site area and variable, rugged terrain provided major remedial design challenges. The innovative site evaluation and assessment techniques, paired with effective remedial processes such as tilling and adding soil amendments, have helped restore these vital grasslands and ranch areas. The uplands remediation and ecological revitalization efforts have served to provide key lessons and replicable assessment techniques for other sites with area-wide contamination.
The Silver Mountain Mine site is an abandoned silver and gold mine that operated from 1928 to the 1960s. In the early 1980s, cyanide was used to extract metals from mine tailings. By 1983, the site was abandoned, and the mine tailings and holding basin, which contained cyanide-contaminated water, were left behind. A leachate collection trench associated with the ore extraction was contaminated with cyanide and arsenic.
This site was added to the NPL in 1986. Sodium hypochlorite was used to neutralize the cyanide in the pond and in the mine tailings. The contaminated water in the leachate collection trench was then removed from the site. The trench was covered with a liner. In the 1990s, approximately 7,000 cubic yards of mine tailings were consolidated and capped, the mine entrance was closed, and the site was revegetated and fenced. Deed restrictions were implemented to protect the cap. The site cleanup was designed to require very little maintenance. The site was deleted from the NPL in 1997. As of 2008, the cap is in excellent condition and the fence remains in place. The Washington Department of Ecology will continue to perform annual inspections and maintenance of the cap.
Reconstructed entrance to the Yak Tunnel in 2002 (Source: Mining History Association)
Yak Tunnel (one of two tunnels that drain the historic mining district) prior to construction of the Yak Water Treatment Plant (Source: EPA)
The California Gulch Superfund site consists of about 18 square miles of land where mining, mineral processing and smelting activities produced gold, silver, lead and zinc for more than 130 years. Wastes generated during the mining and ore-processing activities contained metals such as arsenic and lead at levels that posed a threat to human health and the environment. These wastes remained on the land surface and migrated through the environment by washing into streams and leaching contaminants into surface water and groundwater. The site was added to the NPL in 1983. To facilitate cleanup, it was divided into 12 operable units, each with a specific cleanup activity. EPA and the potentially responsible parties conducted removal and remedial activities to consolidate, contain, and control more than 350,000 cubic yards of contaminated soils, sediments and mine-processing wastes. Cleanups by the potentially responsible parties have involved drainage controls to prevent acid mine runoff, consolidation and capping of mine piles, and slag reuse. By 2011, several of the operable units at the site were deleted from the NPL. Response actions are complete in most of the operable units, and institutional controls to protect the remedy and prevent the release of contaminants are either in place or under development.
For more information on California Gulch
Making a Difference in Communities: California Gulch Superfund Site, Leadville, Colorado (Video)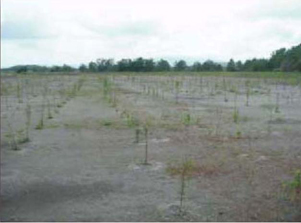 Tree seedlings on the tailings pile (2004) (Source: EPA)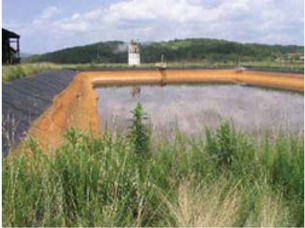 Surface Impoundment for the Davis Mill Creek Watershed Wastewater Treatment Plant (Source: EPA)
The Copper Basin Mining District has been heavily scarred by mining activities that continued from the mid-1800s until the late 1900s. Mining and processing activities centered on copper and sulfur, and produced solid wastes and byproduct materials that remain on site, including sulfide-rich ore, sulfide-bearing waste rock, tailings, granular and pot slag, iron calcine, magnetite, iron concentrate, wastewater treatment sludge, and demolition debris. In addition, mining and related activities resulted in contamination by metals and polychlorinated biphenyls, deforestation, and severe erosion.
Several government agencies and private parties have taken steps to stabilize and partially revegetate the area, including its numerous watersheds. The site is being investigated and cleaned up through a collaborative effort between the EPA, the Tennessee Department of Environment and Conservation, and OXY Oil and Gas USA. A wastewater treatment plant was refurbished on the Davis Mill Creek watershed to treat acid and metal-laden waters of the creek, underground mine waters, and contaminated stormwater. The plant has removed over 5 million pounds of iron, zinc, manganese, copper, lead, and cadmium, and neutralized over 13 million pounds of acid. The Davis Mill Creek watershed also received diversion systems and upgrades and modifications to existing dams. The North Potato Creek received a lime treatment plant that removed 90 percent of metals of ecological concern and raised the pH of the discharge from 3.3 to 7.0. One of the goals for this watershed is to reestablish its biological integrity. This process is currently in progress.