For more information on Optimization, please contact:
Kirby Biggs
Technology Integration and Information Branch
PH:
202-823-3081 |
Email:
biggs.kirby@epa.gov
Overview
Key Optimization Components: Data Management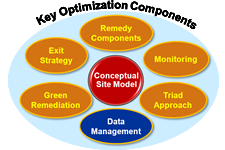 Data management refers to the strategy and methods for collecting, processing, synthesizing, evaluating and communicating data. During the dynamic work portion of a project, large volumes of data (laboratory and field-derived) are typically generated over a relatively short period of time. Managing data effectively enables site teams to process and evaluate data to support efficient project and site decision-making.
Once the method of data acquisition is established, data should be entered into the database or software using a pre-standardized format. A variety of databases are available for use that also provide output modules that aid in the analysis of the data. Some of these output modules include sample design, data query tools, sampling design, statistical analysis, and visualization and modeling capabilities.
Real-time technologies offer opportunities for site teams to evaluate data using two-dimensional (2-D) and three-dimensional (3-D) visualization and modeling. When used during the dynamic investigation phase, visualization and other data evaluation technologies enable site teams to quickly understand site conditions and make adjustments to characterization plans to address data gaps. The final versions of conceptual site models (CSM) can be used to support remedy selection, design and implementation.
Selected Resources
Click on a column heading to sort the table. Search for additional publications or resources by keyword or topic using the Search page.