For more information on Optimization, please contact:
Kirby Biggs
Technology Integration and Information Branch
PH:
202-823-3081 |
Email:
biggs.kirby@epa.gov
Overview
Optimization Stages: LTMO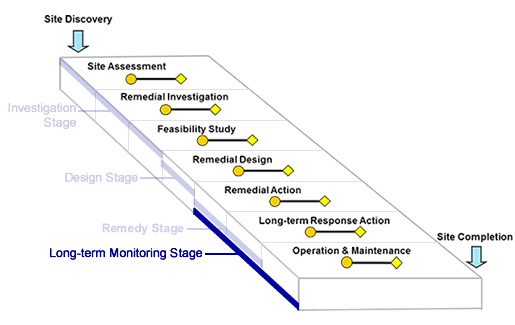 LTMO (Remedial Action, Long-term Response Action [LTRA] and O&M in the Superfund Program) involves comparing actual remedy performance to design expectations and or the optimization of performance monitoring programs. Recommendations are provided to improve protectiveness, reduce cost and facilitate site closure. To learn more about the related Superfund pipeline stages, visit Remedial Action

and Long-term Response Action and O&M

.
To see information about optimization for the other pipeline or optimization stages, visit Investigation stage, Design stage or Remedy stage.
Following are example types of data analyses performed during the LTMO stage:
Analysis of historical data plus trends in performance monitoring data
Interpretation of the conceptual site model (CSM) and identification of data gaps
Statistical analysis of groundwater monitoring data
Review of existing performance monitoring program for gaps and redundancies
Comparison of current chemical loading and/or other site conditions to conditions considered during design
Comparison of remedy performance to expected performance and reasonable expectations
Review of remedy component performance relative to expectations and expectations for competing technologies
Preliminary capture zone analysis for pump and treat (P&T) systems
Review of known receptors and potential for additional receptors since remedy design
Consideration of alternative remedy components and expected cost and performance
Consideration of supplementary or alternative remedies and expected cost and performance
Review of provided costs relative to expectations and cost for similar sites
Preliminary green remediation environmental footprint analysis
Additional information on optimization is available within Superfund Remediation Optimization: Definition, Scope, and Approach. In addition, following are some of the resources used during a remedy stage optimization review.
Selected Resources
Click on a column heading to sort the table. Search for additional publications or resources by keyword or topic using the Search page.